Routesetting Blog
---
18th March 2015
March Madness
Just over two weeks have passed since Mile End hosted the epic final round of Blokfest. For everyone that was there- what a day! A great vibe during the qualifiers and then the top nearly lifted off the secret garden for the finals showdown in the evening. Thanks to everyone who made it happen and everyone who came down and got involved. A few of the blocs are still up but will be stripped as each area gets re-set, bringing our green V2-V4 circuit back into the mix. Saturday just gone Mile End hosted the infamous Rock On boot demo, with the usual mix of great blocs and loads of different shoes for people to try out. Another classic event.
Things have been moving along swiftly on the setting front. Last week we set some extra lines on the new auto belay line in the rope bay, which is located on the stepped lead wall at the far end. On Thursday Liam 'The Hitman' Halsey joined us for two days of setting. First up was the Rock On slab, then on Friday Ned Feehaly came on board for the Karma roof set. Great blocs all round, so get involved! This week, we have set Trackside and today The Cave. On Friday we will be stripping most of the blocs from the Monkey Room in prep for the set on Monday. Ben West will joining us for this set- Team GB wad/setter/coach, so no doubt this will be another classic set! Also due for a reset next Thursday is the overhanging lead wall in the Ropebay. The next Bloc/comp wall/slab set is scheduled for the week beg April 13th. More info to come on this in the next blog!
Posted by Alex Lemel on 18th March 2015
---
13th February 2015
Blokfest 2015
Its just over 2 weeks until the final round of Blokfest 2015 hits Mile End, so heres a rundown of whats happening in and around the centre. The week leading up to Blokfest the Bloc will be set on Monday 23rd and the Slab being set on Tuesday 24th. There will be slightly less blocs set to accommodate the comp blocs set later in the week. Also we will not be setting any greens as these are all going to be stripped from the centre on Wednesday 25th as this is the colour of the Blokfest circuit. On Thursday 26th we are stripping the Comp Wall so it is ready to set the Blokfest finals on Friday 27th. On Saturday 28th we will be setting the full Blokfest tour throughout the centre so expect some disruption. We will be moving through out the centre area by area so please bear with us! After the actual comp on Sunday we will be re-setting the Comp Wall for a night set on Monday 2nd March as IRATA are in during the day time. The next few days will be spent recovering, but there will be plenty of blocs for you to come and try! With a new bloc and slab set the week before, all the Blokfest problems and a new Comp Wall set you will have over 100 new blocs to crush!
Posted by Alex Lemel on 13th February 2015
---
02nd February 2015
Blocs a Plenty
It's been a while since we last updated our routesetting blog so we thought we would give a quick overview on the setting that's just happened and what's coming up in the next few weeks.
The last 2 weeks have seen 36 new lines go up in the Rope Bay, a whole re-set in the Money House as well as a partial re-set on the new Competition Wall.
This week (2nd feb) sees complete re-sets in both the Cave on Tues and the Playground on Thurs.
Don't forget Blokfest will soon be upon us (1st March). There will be some disruption to the normal setting routine but we can guarantee some awesome competition blocs for you all to have a go at.
Posted by Dean Straw on 02nd February 2015
---
19th August 2014
A Secret Garden Secret
Rumours are flying around about a comp wall in the Secret Garden.... All we can say is- watch this space! (Or more specifically the space opposite trackside). More info will be coming over the next weeks about this exciting development, so keep your eyes peeled!
Recently, we have been expanding our pool of guest setters to include some of the country's best and most respected climbers. We have had appearances from 3 times British Bouldering Champion and Beastmaker pioneer Ned Feehaly, IFSC competition route setter Gary Vincent and grit master Ben Bransby. All these guys alongside our pro in house team! These setters have had a big impact throughout the Centre, bringing different styles and adding lots of diversity in the sets. Combine this with the latest and best grips on the market and you have a recipe for some world class setting! Theres also more guest setters in the pipeline, with British Team Member Tom Newman joining us in a few weeks . Last week Myself, Ned, Gaz and Big Mike re-set the bloc and slab for the 3rd round of Tour Du Bloc (special thanks to Lewis and Andy, and everyone that helped out on the night.) Another great evening of blocs and food! This week we are re-setting the Rope Bay and Cave, and next week Ben Bransby is back in the house!
Posted by Alex Lemel on 19th August 2014
---
10th June 2014
Green With Envy
With the next Tour Du Bloc just over a week away, the Routesetting Team have taken delivery of a large amount of new holds from Volx for our new green V2-V4 circuit. This will debut at the next Tour Du Bloc, as well as some new volumes from our friends at Karma. The green circuit will replace the current "off piste" greens, as we re-set each area throughout the centre. A few other slight changes you may notice will be the tags on the red circuit changing to just "VB". This won't affect the difficulty of the problems, but will be easier for new climbers to understand. Also the orange/black circuit will now be V0-V1. Again, this makes more sense to new climbers and is the obvious progression from VB climbs (Very Basic) through to numerically graded climbs which represent technical ability - V0/V1/V2 etc.
The Centre has seen alot of setting activity recently, with the Karma Roof, Slab and Vert, HAW, Prow, Monkey Room, Overhang and Red Slab all being set over the past few weeks. This week, we are setting The Wave on Thursday 12th and Friday 13th and next week Trackside on Wednesday 18th. Tour Du Bloc setting will be taking place Thursday 19th and Friday 20th. Make sure you come down! We have setting from Ben Bransby, BBQ, tunes, and of course the Tour itself!
Posted by Alex Lemel on 10th June 2014
---
21st May 2014
Where Do I Start?
A question that is often asked.... It's a bit of a grey area, so i'm going to try and clear a few things up and give you the lowdown on how we do it at Mile End.
Every climbing wall has its own tagging system and guidelines to define start posistions for boulder problems. Unless it's a comp where you have two flashes of tape for your hands and two flashes of tape for your feet, it can sometimes be a bit confusing for people as to how a bloc starts. This is especially true as more volumes are thrown into the mix and we try and make each bloc we set more creative, trying to make you think about body positions and movement. So, how do we do it? A grade number or circuit tag is placed on a start hold or volume. The climber then has to work out if the bloc starts there - matched on a big jug for example, or, if there are any volumes or aretes in close proximity, does the bloc start one hand on the tagged start hold and one hand on the volume or arete? This is for you to decide - but, there are a few things to consider.
If it feels like a horrible start position or too hard for the grade, your probably in the wrong posistion. We like to get you on the bloc and get you going so its extremely rare for the first move to be the hardest.
The highest start hold is the one tagged. This means you can use any of the holds/volumes/arete underneath it if you want, any holds higher and you are starting in the wrong place.
It's not always a sit start! You don't have to pysically sit down on the floor to start a bloc. If you cant reach the start holds just pull on in a crouch position.
So, remember that it is a "boulder problem" and you are here to solve it! If you really aren't sure about a particular bloc and happen to see a route setter wandering about- ask! We are only too happy to tell how we intended you to start the bloc and how it was set.
Posted by Alex Lemel on 21st May 2014
---
28th March 2014
Tour Du Bloc
Summer is nearly here, and with it comes Tour Du Bloc. In the Secret Garden the sides will come down, the blocs will be set, the tunes will be turned up and the BBQ will be lit. This will be the opening night of Tour Du Bloc, which will be happening on Friday 25th April. This is a new event which will be happening in the Secret Garden and will comprise of 25 blocs set on the Bloc and slab.
The blocs will be set as part of the normal reset and will stay up until the next reset. Score cards will be £1.50 and you have until the next reset to complete as many as you can. Scoring will be based on an honesty system. The event will run for 4 resets throughout the summer with the resets being every 6-8 weeks to take advantage of the nice weather and vibes in the Secret Garden. There's free food for competitors on the opening night - all you have to do is hand in your score card! The Bloc and Slab will be open from 6pm and food will be from 7-8.30. There will be prizes for overall winners and spot prizes on the night! Check the posters landing soon!
Other recent route setting activity throughout the Centre has included the Monkey Room, Karma Roof and the Wave. The next resets are- Rock On slab-Monday 31.3 and HAW Tuesday 1.4
Posted by Alex Lemel on 28th March 2014
---
26th February 2014
Bloc Party
The Secret Garden Bloc was reset yesterday and by 7 o'clock the graden was packed with people trying the new problems! Great to see so many people getting involved with the top outs, and the different angles and climbing style out there. The slab will be reset tomorrow, meaning that alongside new resets on trackside and the outside traverse last week, the whole garden has now been reset. The next reset for the Bloc and Slab has been sceduled for 24/25 April and will open in conjunction with Tour Du Bloc. There will be another blog with all the details for this event next week. Also look out for the posters coming soon! The Ropebay is due to be reset Monday 3rd and Tuesday 4th and the Karma Roof Thursday 6th March
Posted by Alex Lemel on 26th February 2014
---
05th February 2014
Rise Of The Rope Bay
The first half of the rope bay has been refurbished and is looking good. The new section at the back end has some great new angles and a new paint job on the left hand side has brought it up to date. That leaves the small featured buttress and the yellow lead wall and small roof section next to it. Work on these sections will begin on Monday 17th February and will take 2 weeks to complete, with route setting scheduled for 3/4th March. After this you will have a new lead wall with arete/prow and the featured buttress will be replaced with some beginner friendly angles.
On the setting side of things, over the past few weeks we have re-set the Wave, Playground and Cave. This week we will be re-setting the Monkey Room and HAW and next week the Prow and Peggy Day.This leaves just the secret garden Bloc and Slab, Trackside and Traverse. IRATA will be out of the area from Monday 17th February so setting out there will be scheduled for that week and the next. Keep and eye on the route setting notice board in the main room for the exact dates.
Posted by Alex Lemel on 05th February 2014
---
08th January 2014
Twentyfourteen
The setters have been back for only a few days and already have a couple of re-sets under their belts... Trackside was re-set Friday 3rd and Karma vert was re-set Monday 6th. The Rock On slab will be re-set Friday 10th and next Thursday (16th) we will be joined by Liam to set the Karma Roof. Plenty of new blocs to help everyone get back in the swing of things after Christmas and New Year. You may also have noticed that work has started in the rope bay. This will include some new surfaces and re-paints of some existing surfaces. Last but by no means least, In the pipeline due to land around March/April (to tie in with warmer weather) we will be launching our new mini league "Tour Du Bloc". More on this in the next few blogs....
Posted by Alex Lemel on 08th January 2014
---
18th December 2013
Merry Christmas!
The setters are back from a trip to Font a few weeks ago and have brought back renewed psych and ideas from the forest (and a reminder of how bad all the footholds are..) So we headed outside and reset the top out boulder and slab with help from Liam and Gaz. Those of you that have been to Font will know what i mean when i say that every foothold in a climbing wall is a jug compared to climbing outside and after a week of falling of V2 and V3's we had to be careful not to undergrade everything when we came back. But its also important to keep fresh in the mind of the setters what the grades of these indoor blocs are actually based on. Next up the Monkey room, and its back to its usual self after the slightly thinner set for the opening round of Blokfest. Our guest setter Shaun has headed back to Austria and it was great to have him back for a few sets. Hopefully he will return again next year! HAW was reset next and a really good set that seems to be getting some great feedback. This week we have reset the Prow and on Thursday we will be resetting the Peggy Day. On Friday Track side will be up for a reset depending on what time the IRATA guys are finished. Setting will resume from Monday 6th January or possibly Friday 3rd depending on how much Turkey the setters eat.
Merry Christmas everyone!
Posted by Alex Lemel on 18th December 2013
---
20th November 2013
Routesetting Activities…
Route setting activities recently have included Trackside, Wave, Karma Slab and so far this week the Cave. New volumes are continuing to appear and are helping to change angles and give fresh inspiration for the setters to work with. Liam Halsey joined us once again for the Wave reset, and after that the team headed for the Karma slab. The appearance of another EP wok has caused many love/hate relationships. Regardless of whether you can hold one or not, they change the surface area and force you to maneuver around using different body positions. This week the Cave has been re-set, with the Karma roof next up on Thursday and the yellow lead wall on Friday.
Next week we will be resetting the red/blue overhang and the Karma vert. On Monday, we have a special guest setter joining us for the overhang. Shaun Jansa is back and will be with us over the next few weeks for some guest sets. The team are off to Font for a week and will return to set the Secret Garden Bloc and Slab on Thursday5th/Friday6th December. With a setting team consisting of Gaz Parry, Liam Halsey, Shaun, Mike and myself its going to be a great set!
Posted by Alex Lemel on 20th November 2013
---
31st October 2013
Blokfest- The Aftermath
On Sunday 20th October, Mile End hosted the opening round of Blokfest 2013/2014. What an epic day! With around 400 competitors and spectators descending on Mile End, both Blokfest and mile End saw its busiest day ever so far. With 2 days spent setting, testing, tweaking, taping and doing lots of other stuff, the team were happy with everything and pretty confident you guys were going to have a wicked time. Great blocs, banging tunes and a wicked vibe ensued, culminating in an amazing set of final blocs on the new secret garden bloc and slab. The atmosphere was electric and certainly inspiring to watch. A massive thanks to everyone who came down and supported, got involved and represented. Big shout to the Blokfest team for all the hard work. These comps aren't easy to run and theres a lot of behind the scenes and running about to make the whole thing happen. Check out the Blokfest website to keep up to date with everything including blogs, photos and upcoming events.
So, after everything was wrapped up late Sunday evening the setters were back in at 7.00am the next morning to reset the Bloc and Slab. An IRATA course taking place that week meant we could only set and test between 5 and 10pm after they had finished. This week the Playground and Red/Blue overhang has been re-set. We have lots of nice HRT volumes waiting in the wings so expect to see them appearing over the coming sets. Next week we will be resetting Trackside and the Wave with guest setter Liam Halsey.
Posted by Alex Lemel on 31st October 2013
---
10th October 2013
Operation Blokfest
With Blokfest fast approaching (just over one week away!) setting plans are in place and the team are psyched! First up, recent setting activity- Last week we set the Red/Blue Overhang and the Peggy Day. These sets, along with the Monkey House this week and the Karma Slab and Vert next week, will be set with less problems than usual so we've got plenty of space for the Blokfest tour. New volumes have also started appearing throughout the Centre and certainly add another dimension to setting and climbing. Theres more volumes in the pipeline so expect to see them appearing in about a month or so.
Setting plans for Blokfest are as follows. On Friday 18th, the Garden Slab and Bloc will be stripped and the team will set the Showcase Finals. Also on Friday, ALL the yellow blocs throughout the Centre will be stripped so as not to clash with the Blokfest problems as these will be set in fluro yellow. On Saturday 19th the team will be setting throughout the Centre, moving from area to area as a group, to cause as little disruption as possible. You may asked to leave an area, but it should only be for an hour at most. On Monday/Tuesday/Wednesday the Garden Slab and Bloc will be re-set. There is also an IRATA course out there for the week, so this means the area will not be open for ANY climbing until Thursday Evening.
Posted by Alex Lemel on 10th October 2013
---
27th September 2013
The Hitman Comes To Mile End!
So, the Secret Garden Bloc and Slab are going down a storm. The opening of this new area means the setters have been let loose with new holds throughout the rest of the Centre. Coinciding with a few guest sets from Liam 'Hitman' Halsey and some new volumes from Entre-prises, the latest sets in The Wave and The Karma Cave are, in our opinion, some of the best we've had so far... As we've said before, new holds make such a big impact for setting. Throw a few guest setters into the mix and you really start to change up the setting styles. Especially noticeable on the Karma cave set, the style is quite comp orientated with guppying and correct body positions required to top the blocs! The new yellow V6-V8+ circuit is settling well, with just the Red/Blue Overhang and The Monkey House left to receive the yellow treatment.
Sunday 20th October sees Mile End host the first round of the 2013/2014 season of Blokfest and we cant wait. After the success of last year, this year promises to be bigger, better and louder, and with the opening of our new areas in the Secret Garden its gonna be a smasher! So make sure you've got the date in your diary. Come and get involved in the blocs, or, just turn up and soak up the vibe!
Check out the 2013/2104 promo vid from the team here:
Posted by Alex Lemel on 27th September 2013
---
06th September 2013
Secret Gardening
Well, after many many months of waiting the Secret Garden is finally finished and open. For those of you that don't know there's a fantastic new slab and an awesome free standing 'top-out' boulder deisigned and built by the guys at Karma. The setters have been really busy putting some brilliant problems on these brand new surfaces. We've invested thousands of pounds in new holds and we think you will agree it is well worth it. We had Gaz Parry down for this new set and he has provided some really tricky, brilliant stuff.
It's also an opprtunity to launch our new yellow V6-V8 circuit, something new for all you guys that like it a bit harder...
This week Kuzi, Lewis and V have been busy setting the rope bay and the Karma Slab in the main room. This means that there is plenty of new stuff to go at whether you're a rope monster or a slab loving balance meister, there's something for everyone.
Next week it's time to re-set the Wave. Al, Lewis and guest setter Liam Halsey will be sorting out some crushing problems on a new range of brand spanking new holds. Watch this space...........
Posted by Alex Lemel on 06th September 2013
---
17th July 2013
Sizzlin.
Over the past few weeks the setters have been battling the hottest temps to give you the coolest blocs. First up to be set - the Karma Cave, slab and vert wall. A great set with one or two of our new holds managing to sneak in here or there. The setters just couldnt resist the temptation of the new grips! Now, grades always have to be taken with a pinch of salt, but especially so when its this hot. Boulder problems outside are graded for ascents in perfect conditions when friction is at its best, so trying to climb on sweaty grips in 30 degree heat is always going to feel harder. The team then headed into the Wave where grit and font esque problems were set in abundance, meaning cooler temps are essential for some ascents! Late eve or early morning is advised... This week we had our hottest, most brutal day setting yet, on the HAW and prow. It was so hot that we only just made it through the day with at least one member of the team (me) suffering from a partial meltdown. Luckily ice packs and lots of water where on hand to bring me back to life.
Next week we will be setting the Cave and Overhang, whilst the new top out boulder in the Secret Garden starts to be built. Everyone is super psyched for this so keep your eyes peeled!
Posted by Alex Lemel on 17th July 2013
---
01st July 2013
Axis….Of Evil.
Last Wednesday, half a ton of new Axis holds made it through customs in the Netherlands and landed in our car park. A day later and they had all been counted, checked and safely stored away in the depths of the route setting cuboard. These holds will be used for our new yellow V6-V8 circuit, which will be appearing when we open the new area in the Secret Garden mid August. What with our new Volx holds and a few more deliveries still to turn up, it feels like Christmas has come early in the route setting camp. New holds are one of the most important things a wall can invest in. It gives the setters inspiration, diversity and motivation for setting the best blocs, which ultimately, gives the climber the best possible experience when they come climbing.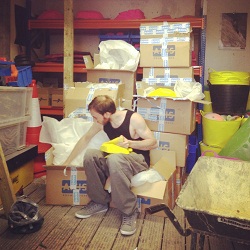 So, talking of route setting... Last week saw the Playground fully reset. A great area for beginners, as there are loads of easy angles and lots of easy problems. Also great for working on your bridging and stemming technique! The red slab opposite also got a re-set. Loads of jugs and a few screw ons thrown in the mix.
On Friday, Mike, Lewis and Violetta re-set the Yellow Lead Wall in the Rope Bay. Loads to go at in the 6a-6c range, so get in there and start clipping.
This week, Karma vert, Karma Cave and Karma slab will all be re-set over Wednesday, Thursday and Friday.
Posted by Alex Lemel on 01st July 2013
---
25th June 2013
Special Delivery…
Its been a busy few weeks for the Setting Team..
Friday 14th saw the sides of the Secret Garden come down and 22 new blocs on Trackside. Its always great to watch people try these blocs. There are so many different foot options, meaning everyones beta is different. Next up on Tuesday was the Peggy Day. Throwing laps is the name of the game here, always popular with beginners and seasoned vets alike, a great area for warming up, sideways crimping and everything in between.
On Wednesday we decided to get a head start on Thursdays Monkey Room set and take the big volume off the roof. Sheridan came up with a great idea to build a mini scaffold tower underneath it so we could literally unscrew it and drop it onto a platform. It worked a treat and gave us a massive head start for the next days setting. It also gave us a massive roof to play with, meaning everything got a bit steeper and the blocs were a bit harder. Its a great challenge and achievement for for people to try and make it it across the roof. I remember spending days trying to get across it when i first started climbing at Mile End.
On Monday we recieved our first batch of new holds for the new areas being built outside. Fresh from France courtesy of Volx, the holds are amazing and we cant wait to start setting with them. Modelled on actual holds from classic boulder problems and areas in Fontainbleau, these holds were used in the finals of Blocfest . They looked sick and climbed even better- look out for the 'Le Coeur' hold, taken from the classic 7a problem in sector Elephant.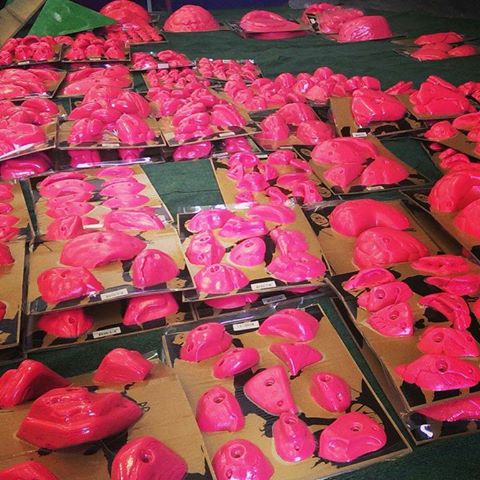 This Week The Playground gets a full reset on Thursday and the Yellow Lead wall gets a full re-set on Friday!
Posted by Alex Lemel on 25th June 2013
---
12th June 2013
Going Caving…
Yesterday Mike and Andy re-set The Cave. It looks great in there, and is always popular with beginners and kids. I think this due to the lower nature of the walls and the fact that there is a lot of bridging, meaning the problems always tend to lend themselves to being slightly easier. That being said, there is always a spicy pink/black thrown in for good measure.
Last week (Thursday) me and Mike re-set the Red/Blue Overhang. We used some of the new circuit holds and they worked a treat. This can sometimes be a slightly frustrating area to set as the arêtes are close together, meaning you can always throw a heel, toe or hand to an arête. However the problems turned out great and we hope you enjoy them.
Planned for the rest of the week is the Trackside on Friday, coinciding with the removal of the sides of the Secret Garden walls. This should give some much needed cooler temps out there. The building of the new slab area is progressing well and looks wicked. The setters cant wait to get on there with some fresh grips and set some king lines!
Next week we are re-setting the Peggy Day on Tuesday and the Monkey Room on Thursday and Friday. Time for the big volume to come off the roof in The Monkey Room which will be a nice change back to its original steepness.
Posted by Alex Lemel on 12th June 2013
---
31st May 2013
Holds Holds Holds..
This week, Mike, Andy and Vee re-set one half of the Wave on Tuesday, and me and Mike re-set the other half on Wednesday. Loads of cool new problems, remember to brush those volumes!
Also this week we took delivery of loads of new Core holds for our V1-V3 and V4-V6 circuits. Some of these will be saved for our new build happening in the Secret Garden, the rest will appear around the centre as we re-set each area. A rumour is circulating of yellow Axis holds for a new V6-V8 circuit and lots more holds from Volx , Holdz and Entreprises turning up... We will keep you updated!
Next weeks re-sets will be the red/blue overhang on Thursday and the cave on Friday.
Posted by Alex Lemel on 31st May 2013
---
15th May 2013
Welcome to our new Route Setting blog
Over the next few weeks and months Alex and the routsetting team will be posting all kinds of information to keep you all updated with everything that's happening with the routes here at Mile End Climbing Wall.
Posted by Alex Lemel on 15th May 2013