Party (Birthday) for 6 kids
£120
Book Now
---
Looking for something special for your child's birthday? Something they'll remember for years? Then book one of our fantastic birthday parties.
Each party lasts for 1½ hours and are available for young people aged 7 yrs and older. They feature a variety of fun and exciting climbing based activities all under the expert supervision of our nationally qualified instructors.
Our instructors will guide the young people through a selection of activities which could include scaling a 12 metre wall, bouldering throughout the centre and then finishing off upside down in the Monkey room playing games.
All equipment is provided by us and included in the cost. All we ask is that the young people come suitably dressed (jogging bottoms or shorts, T-shirts and trainers etc.) and that all jewellery is removed (especially rings.)
---
Please Note
Birthday Parties are strictly for young people aged 7 years and older.
No one under 7 years old will be allowed to take part and no refunds will be given
---
FAQ's
1. How do I book a birthday party at Mile End Climbing Wall?
Parties can be booked by emailing us at enquiries@mileendwall.org.uk calling us on 020 89800289.
2. How many children can come along?
Parties can be booked for a maximum of 6 children
3. How old do the children need to be to attend a birthday party?
All the children taking part in a birthday party at Mile End Climbing Wall must be aged 7 years old or older
4. Some of the children who want to come to the party will not be 7 years old. Can they still attend?
No. All the children MUST be aged at least 7 years old. Anyone aged less than 7 years will not be allowed to take part.
5. If we book a party and then it doesn't go ahead on the day because some of the children are too young will we get our money back?
No. If a party does not happen because the children are too young we will not make any refunds or re-schedule the party.
6. Do you provide food?
We don't provide food for the party. We sell drinks, and sweets etc. but we don't supply any party food.
7. Can I watch my kids climb?
Unfortunately no. Our centre operates on 'No Spectators' policy for the safety of all participants.
Refund and Cancellation policy:
You must give 72 hours notice if you need to cancel or amend your booking. Cancellations within 72 hours from the session start date will not result in a refund, date changes or other amendments will not be granted.
Participation Statement
The mountaineering councils recognise that climbing is an activity with a danger of personal injury or death. Parents and participants in these activites should be aware of and accept these risks and be responsible for their actions and involvement.
---
If you have any questions that aren't covered here please contact us on 020 89800289 and we will do our best to help you.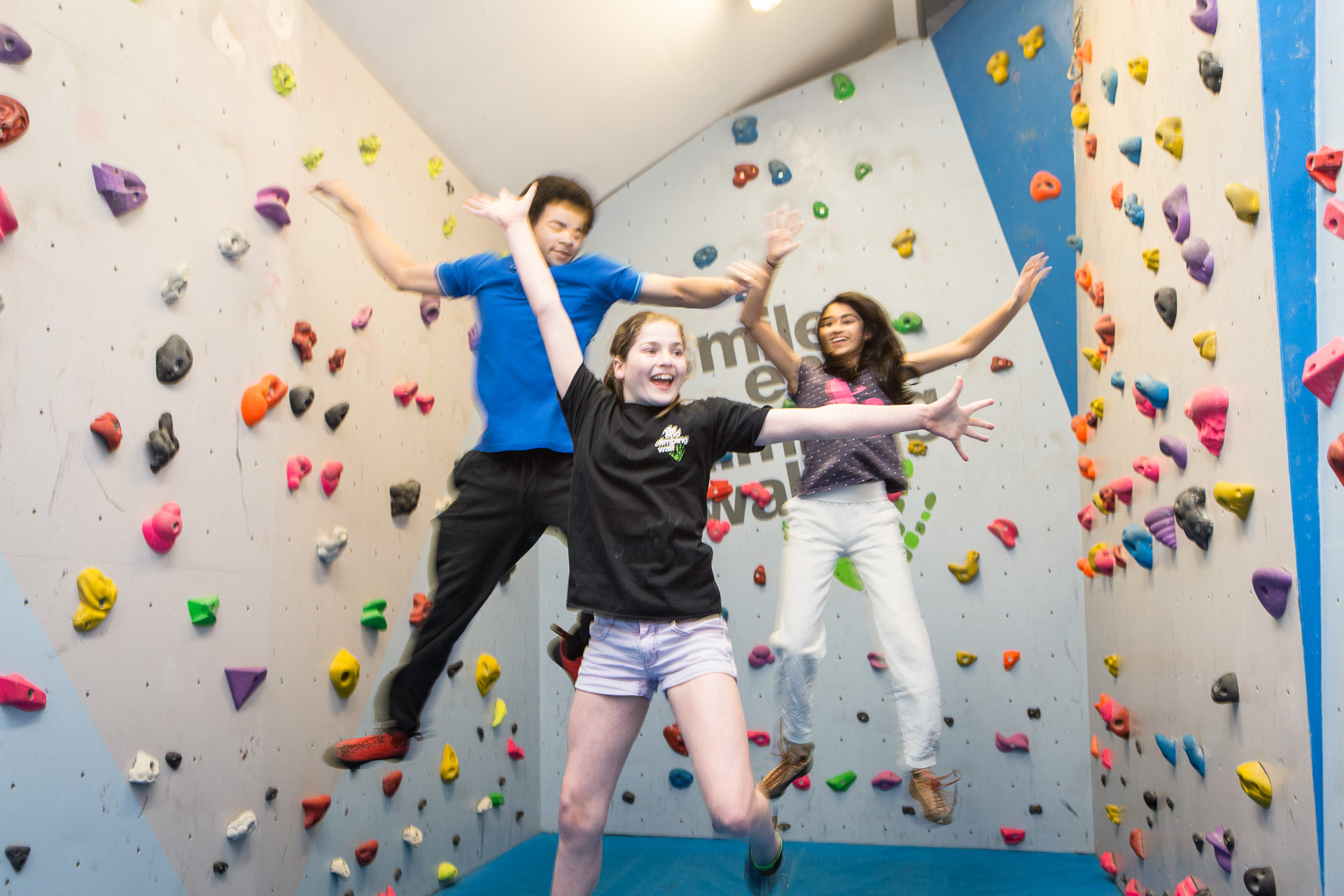 Latest Reviews

The climbing experience and instructor 'Mr M' was great. My son and his friends had a really great time!! My only negative feedback is in regard to the website, in that it is not very clear which if any registration forms need filling in for the children's party.
14th October 2019
---

Hi, overall the kids had a fabulous time. If anything could have been improved, perhaps the children that struggled could have been given some help as looked like they just couldn't work our where to put their feet. But most kids achieved more than they thought they would and was a really uplifting experience for them.
6th January 2019
---

I would give the instructor five stars she was amazing with my daughter ( who was celebrating her 9th birthday party ) and her friends. Unfortunately I found the manager plain rude and abrupt. He could do with learning basic customer service skills from his colleagues. Due to my experience of him I will not use this venue again or recommend it. Such a shame as the instructor was amazing with the girls.
30th April 2018
---

Childrens party, 5 stars Dee the instructor was brilliant, the children felt challenged and gained confidence in the different climbing tasks, experiences.nothing to improve that i can see all was good thanks
12th November 2017
---

5 stars. Went very well, liked the fact there are various rooms, we had the first room to ourselves, can't think of any improvements!
30th October 2017
---

4.5 half stars! We loved it. 5 out of 6 children loved the challenge and were pleased with themselves that they had managed or at least tried. just not sure how to deal with the one who was too scared(?). Maybe another 5 or 10min free climbing on red wall in the end or in between for them would be great. thank you for them. All together very pleased, Birthday boy was super happy!
15th May 2017
---

Great staff engaged encouraged and controlled kids well. It'd be nice if the kids could get a certificate or badge or something as a rememberance
24th April 2017
---

Excellent instructor (Juancho). He coped really well with a mixed ability group managing to find time for all of them. Really liked that the children had the opportunity to belay for each other. Perhaps harnesses and helmets could have been supplied in the 15 minutes before the session and then checked for safety by the instructor at the start so as to allow more climbing time?
24th April 2017
---

5 stars. Fun fast enjoyable exciting birthdayparty 2.5 h with Ethan. Thank you !
27th November 2016
---