Bouldering Improvers Course
£120
Book Now
Buy a Gift Voucher
---
This course is designed for climbers who have limited experience of bouldering. It's perfect for anyone who's done our Introduction to Bouldering Course and wants to progress. This Bouldering Improvers Course will help you avoid many of the pitfalls that hinder progress and will give you the knowledge and technique to train and climb effective.
Please Note that this course is strictly for people aged 18 or older.
The cost of the course includes a 30 day unlimited use pass worth £55
Each of the three 1½ hour sessions is designed to address different aspects:
Week 1 - Slabs, footwork, weight transfer
Essential climbing skills and an introduction to the principles of training: types of holds and how to hold them, footwork (inside and outside edges, foot placement, foot swaps, smearing), body position, efficient movement, balance, warming up, warming down, stretching.
Week 2 - Corners, laybacks, route reading
Exploring personal strengths and weaknesses and using problem setting and solving as a tool for development. Route reading: orientation of holds, sequencing, dancing moves, identifying crux. Corners - exploring 'base of support', palming and bridging. Aretes - layback and flagging as a main techinques.
Week 3 - Efficiency on overhangs and consolidation
Advanced footwork (toe/heel hooks, flagging). Learning to structure sessions in terms of your activity and recovery balance. Putting things into context and looking to the outdoors for inspiration.
Availablity - Choose from the list of dates below (please note that the date shown is the start date. The other sessions run at the same time on the next two consecutive weeks)

Special conditions - Please be aware that this course is a comprehensive 3 week course. If you miss any of the sessions you will not be allowed to join the rest of the course, as this interrupts the teaching / learning process for the rest of the participants. If for whatever reason you think you may miss any of the sessions please contact us and we will try to organise a catch up lesson (instructor permiting) at an extra cost.
Please note that the free month of climbing starts on the day of Lesson 1 and cannot be frozen, changed or moved.
refund and cancellation policy:
You must give 72 hours notice if you need to cancel or amend your booking. Cancellations within 72 hours from the course start date will not result in a refund, date changes or other amendments will not be granted. If you miss any of the sessions - refund will not be given, or next rebooking slot offered. Please make sure that you can commit to all dates before booking.
Book Online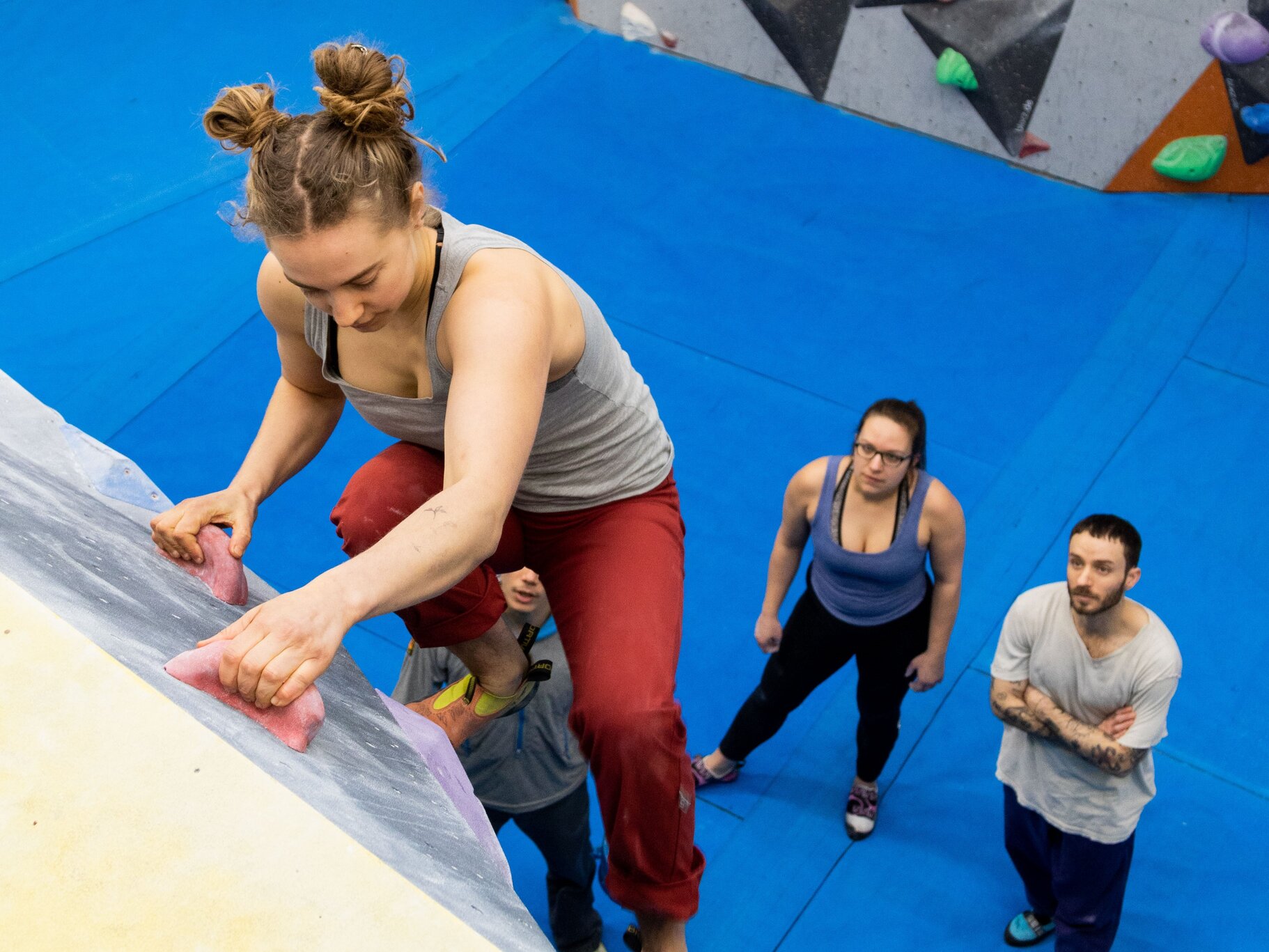 Latest Reviews

Georgia was great! Really clear instructions, she took time with each of us and worked on areas we could improve most on. Highly recommended!
22nd June 2022
---

5 starts, it was very well delivered and has clearly helped me to improve my climbing, money well spent!!
21st June 2022
---

Friendly instructors, lots of technical guidance and moral support. I'd recommend the course to any beginners looking to get to the next level!
20th June 2022
---

This course is great for those who have been bouldering for a month or two and want to learn how to climb more thoughtfully and efficiently. You'll get to learn a lot of foundational techniques that I can't imagine climbing without now! Georgia is an attentive and friendly instructor who's guidance really helped me improve my base skills, become aware of my improvement areas, and feel more confident exploring my own style of climbing. I wish I could keep taking lessons as apart of this because there's so much to learn and practice! If you feel your skills plateauing as a beginner, I would definitely recommend looking into taking this course. Also a good way to make a few friends around the gym!
1st June 2022
---

Georgia was a great teacher. I learned so much and felt myself improving markedly after only one session. Just wish it had been longer really! Only other feedback might be if there were more take home notes as an aid to memorising stuff. There was loads to learn and I'm worried I'll forget half of it!
29th March 2022
---

The teacher was very good.
9th March 2022
---

Georgia is a great instructor and I throughly enjoyed the course. The course is great if you want to learn techniques to climb more efficiently without just brute force and strength. To make the most of it, I would suggest using the free monthly pass to get in sessions between each weekly lesson to reinforce the concepts taught as it can be quite a lot to take in.
15th February 2022
---

A great course very well taught by Georgia, really enjoyable and I'm super glad I did it
24th January 2022
---

Great intro course to understand fundamental techniques and learn terminology. Georgia was a very engaged and knowledgeable instructor, thank you! The only thing I would have wanted more from the course is further route reading and time troubleshooting specific routes we have encountered difficulties with.
24th January 2022
---