Introduction to Bouldering
£30
Buy a Gift Voucher
---
Introduction to Bouldering
If you're not sure what bouldering is, it's climbing without the aid of ropes and harnesses above impact matting. It's the most accessible form of climbing and because of this more and more opportunities for partaking in bouldering are springing up all over the place.
This course is the perfect introduction to this growing area of our sport and will provide you with all you need to know to begin your climbing journey.
During this 1.5hr course our nationally qualified coach will take you through the very basics of bouldering as well as giving you a comprehensive tour of our facilities.
What will I learn?
How to warm up
Bouldering do's and don'ts
Safe descent
Bouldering ettiquette
Landing good practice
Basics of bouldering movement techniques
Who can take part?
Please Note that this course is strictly for people aged 14 or older (parents of under 18's will need to contact the centre for the correct paperwork before their child can take part in this course). Under 18's who turn up for the course without the correct forms will not be allowed to climb and no refunds will be given.
What do I need to bring?
Climbing shoes are included. You just need to bring a £1 (refundable) for a locker and a bottle of water (or buy one when you get here).
What Should I Wear?
Basic gym wear is best. Please note that climbing walls get really hot in summer and a freezing in winter so dress appropriately.
How Much does It Cost?
The 90-minute session costs just £30.00
When do the sessions run?
There are sessions on Saturday and Sunday straight after our Roped Climbing for Beginners course. We also run Introduction to Bouldering courses on weekday evenings. Please see the below for available dates and times.
What Can I Do After?
If there's space and time you can continue bouldering after the session. If not you'll be able to come back and boulder with us whenever you like.
You will also be able to supervise children bouldering (maximum 2) in the centre after completing this course.
You could book one of our Boudering Improver courses or you can book a private session with a coach.
There's even an option to learn top roping with our Roped Climbing for Beginners Course. You're simply spoilt for choice!
Book Online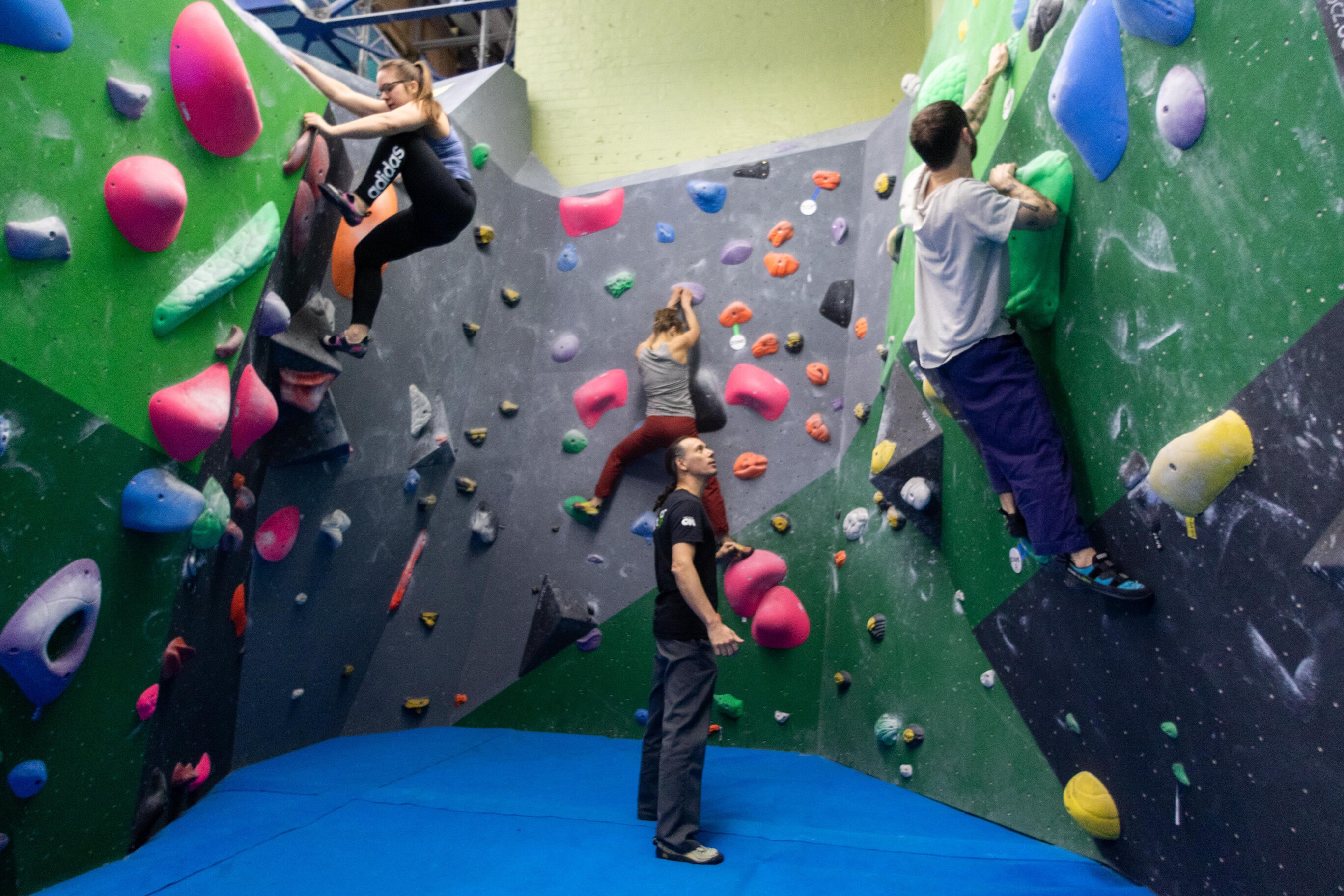 Latest Reviews

Instructor was very professional and knowledgeable. Made me feel relaxed, pushed me just the right amount - beyond my comfort zone but without being overbearing. Imparted a genuine enthusiasm for the sport.
21st November 2021
---

Instructor was very friendly and helpful and made it feel like a weoming atmosphere for a beginner. Very impressed!
14th November 2021
---

Very nice instructor. Lots of climbing options.
13th November 2021
---

Everything was really well explained and well suited to beginner level. We were given really good guidelines and lots of explanation as well as time to try things out.
1st November 2021
---

Fun and different
26th October 2021
---

Really enjoyed the exprience. The instructor was friendly and professional. It was fun and engaging.
23rd October 2021
---

Great instructor - felt very well prepared for bouldering in the future. Not sure what else I'd change really!
10th October 2021
---

Fun, great space, great instructor. Its a vibrant climbing experience and lots of different rooms to explore.
10th October 2021
---