Introduction to Bouldering
£30
Book Now
Buy a Gift Voucher
---
If you're not sure what bouldering is, it's climbing without the aid of ropes and harnesses above impact matting. It's the most accessible form of climbing and and the fastest growing form of the sport.
This course is the perfect introduction to bouldering and will provide you with all you need to know to begin your climbing journey.
During this 1.5hr course our nationally qualified coach will take you through some of the basics, as well as giving you a comprehensive tour of our facilities.
What will I learn?
How to warm up
Bouldering do's and don'ts
Safe descent
Bouldering ettiquette
Landing good practice
Basics of bouldering movement techniques
Who can take part?
Suitable for age 14 years* or older.
* Parents of under 18s will need to contact the centre for the correct paperwork – those who arrive without the correct forms will not be allowed to climb and no refunds will be given.
What do I need to bring?
Climbing shoes are included. You just need to bring £1 (refundable) for a locker and we recommend bringing some water (or buy a drink here).
What Should I Wear?
Basic gym wear is best. Please note that climbing walls get really hot in summer and a freezing in winter so dress appropriately.
How Much does It Cost?
The 90-minute session costs just £30.00
When do the sessions run?
There are sessions on Saturday and Sunday straight after our Roped Climbing for Beginners course. We also run courses on weekday evenings. Please see the below for available dates and times.
What Can I Do After?
If there's space and time you can continue bouldering after the session. If not you'll be able to come back and boulder with us whenever you like.
You will also be able to supervise children bouldering (maximum 2) in the centre after completing this course.
You could book one of our Boudering Improver courses or you can book a private session with a coach.
There's even an option to learn top roping with our Roped Climbing for Beginners Course. You're simply spoilt for choice!
Refund and Cancellation policy:
You must give 72 hours notice if you need to cancel or amend your booking. Cancellations within 72 hours from the course start date will not result in a refund, date changes or other amendments will not be granted.
Book Online
---
---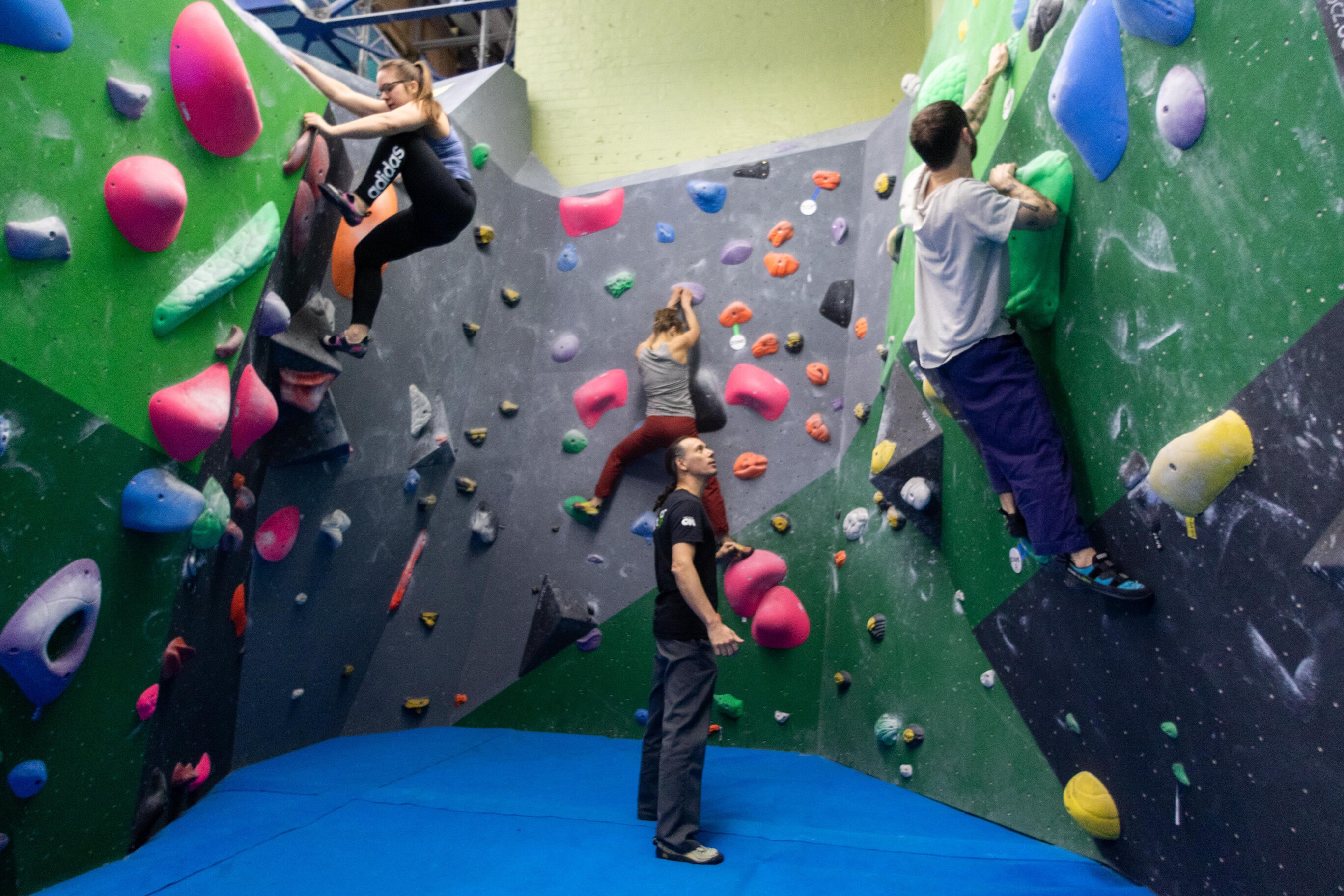 Latest Reviews

I absolutely ADORED my time with you guys. I wasn't going to come, send an email to cancel because I was so scared by the idea of climbing, but then Nolan convinced me by invititing me to come for a tour and a chat. And MAN, do I not regret this!!! Not only I loved the vibe of the place, and the team, etc. But also I actually managed off the ground and on a wall - I think pretty high (for someone who cannot get off a ladder on her own!) Thank you all so much, especially to Nolan for being so patient and passionate. You truly made my day, and made me feel like I can achieve new heights (forgive all the bad puns!). Thanks a million, Guillemette xx
24th July 2022
---

We loved it and staff was super friendly
17th July 2022
---

The course was perfect for helping us develop some fundamental technique and feel comfortable on the wall. Michaelis was very informative and supportive. We had a great time.
10th July 2022
---

It was great! My instructor was really friendly and knowledgeable. She made me feel really confident on the wall and celebrated my achievements. I'll definitely be back again. Thank you!
3rd July 2022
---

All nice and smooth. A place with Good vibes
20th June 2022
---

Fantastic session - instructor was very friendly and helpful for a complete novice such as myself. Will come again
4th June 2022
---

Really good, casual intro course
29th May 2022
---

The introduction course was really great! Nolan was a really good instructor
27th May 2022
---

I had an excellent time! My instructor to bouldering was Noland? (unsure how to spell the name) Everyone was friendly at the centre, learnt plenty and will be back! Cheers, Tom
7th May 2022
---

Clear instruction, patient instructor, learned lot in a short time. Wouldn't have changed anything!
3rd May 2022
---