Published in Blog - Routesetting on 1st July 2013
Axis….Of Evil.
Last Wednesday, half a ton of new Axis holds made it through customs in the Netherlands and landed in our car park. A day later and they had all been counted, checked and safely stored away in the depths of the route setting cuboard. These holds will be used for our new yellow V6-V8 circuit, which will be appearing when we open the new area in the Secret Garden mid August. What with our new Volx holds and a few more deliveries still to turn up, it feels like Christmas has come early in the route setting camp. New holds are one of the most important things a wall can invest in. It gives the setters inspiration, diversity and motivation for setting the best blocs, which ultimately, gives the climber the best possible experience when they come climbing.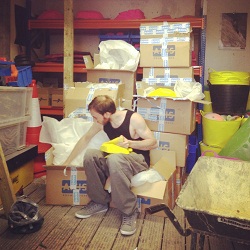 So, talking of route setting... Last week saw the Playground fully reset. A great area for beginners, as there are loads of easy angles and lots of easy problems. Also great for working on your bridging and stemming technique! The red slab opposite also got a re-set. Loads of jugs and a few screw ons thrown in the mix.
On Friday, Mike, Lewis and Violetta re-set the Yellow Lead Wall in the Rope Bay. Loads to go at in the 6a-6c range, so get in there and start clipping.
This week, Karma vert, Karma Cave and Karma slab will all be re-set over Wednesday, Thursday and Friday.