Published in Blog - News on 29th August 2014
Get started on real rock: Inside To Out
Here we take a look at our Inside to Out course, following a group of London climbers as they take their first steps on real rock.
In the last few years, the surge in popularity (and availability) of artificial climbing walls means that majority of climbers in the UK now start out pulling on plastic, indoors.
Although based in London, our centre has always had a strong outdoor climbing ethic and we regularly offer courses that help new climbers from inner-city London make the leap to climbing outside - on some of the finest crags the UK has to offer.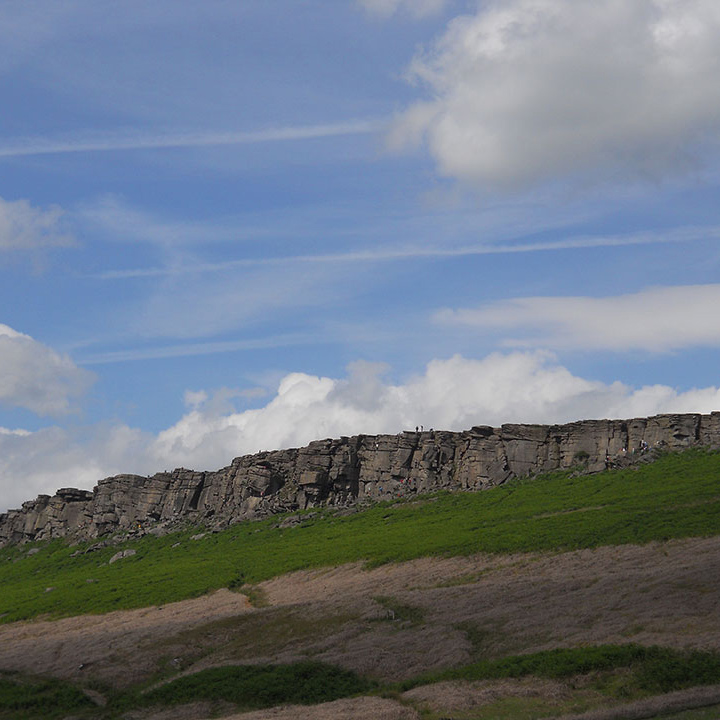 The course is based in the Eastern Edges of the Peak District, just outside of Sheffield in the Dales and Moors of Derbyshire. The rock in this part of the Peak District is predominantly gritstone - for some, the hallowed home of traditional hard climbing (see Hard Grit video), for others it's all about the rugged yet beautiful views and the remote, peaceful moorland climbing.
Our group for this course consisted of Anna, Alex, Eleni and instructor Andy. Of the three clients, only Anna had some previous outdoor climbing experience, and absolutely none on UK rock. Gritstone has an almost unique set of qualities, being very rounded in shape (think mostly slopey handholds) and providing excellent friction. This requires a style of climbing that is quite different from typical indoor routes!
Day One, Stanage
We met in Hathersage, the epicentre of gear shops and cafés in this area, and took a short drive up to Stanage Edge.
Stanage is the longest gritstone edge in England, with extensive bouldering and traditional routes. A brisk walk up-hill from the car park gets you warmed up, and instantly provides excellent views of the surrounding moorland and the wonderful rock on which we were about to climb. It was difficult to drag the group away from their cameras and get them into helmets and harnesses!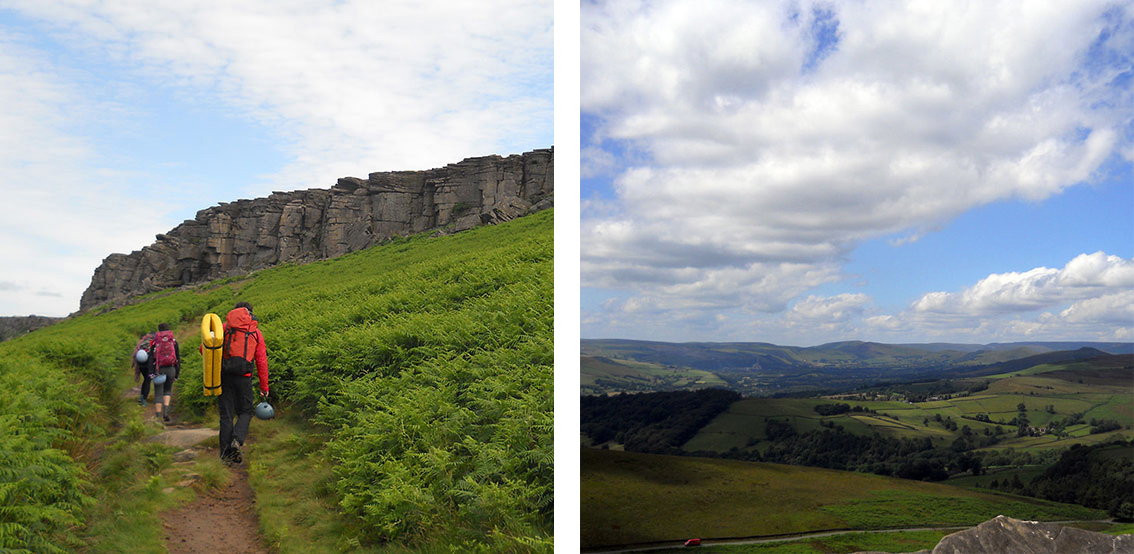 In order to climb here on a top-rope, we need to build removable anchors at the top - there's no ropes waiting for you, unlike at an indoor wall! Setting up anchors using the natural protection of the rock is something that takes time and experience to perfect. Fortunately, all our Inside to Out instructors have suitable qualifications and tons of outdoor experience, so the group can sit back and relax whilst this is taken care of.
With the rope set up, and the basics of this system explained to the group, there's only one thing left to do: CLIMB!!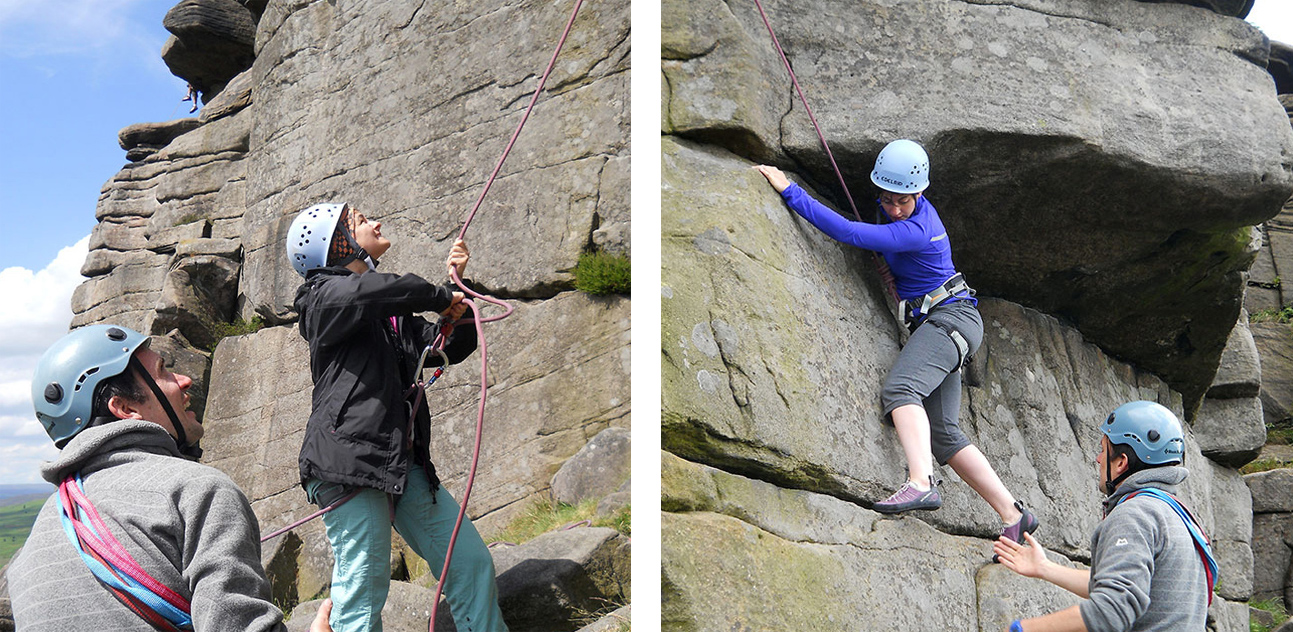 The rock proves challenging, yet all 3 climbers make it to the top of the first two routes. We decide to try something a little harder. More rigging and we move the rope over to our new climb, which seems a little higher and more intimidating. "Where are the coloured holds?" they ask, rather optimistically!
The key to this route, and grit climbing in general, involves smearing/standing on the highly frictional rock, but on features that are elusive at first sight. It's very hard for the novice climber to spot these footholds, so luckily for these guys Instructor Andy is on hand to give directions and advice. With a great deal of effort and determination, and after a few aborted attempts, everyone makes it to the top of Little Ernie, a climb graded severe 4a (see here to learn about the British grading system).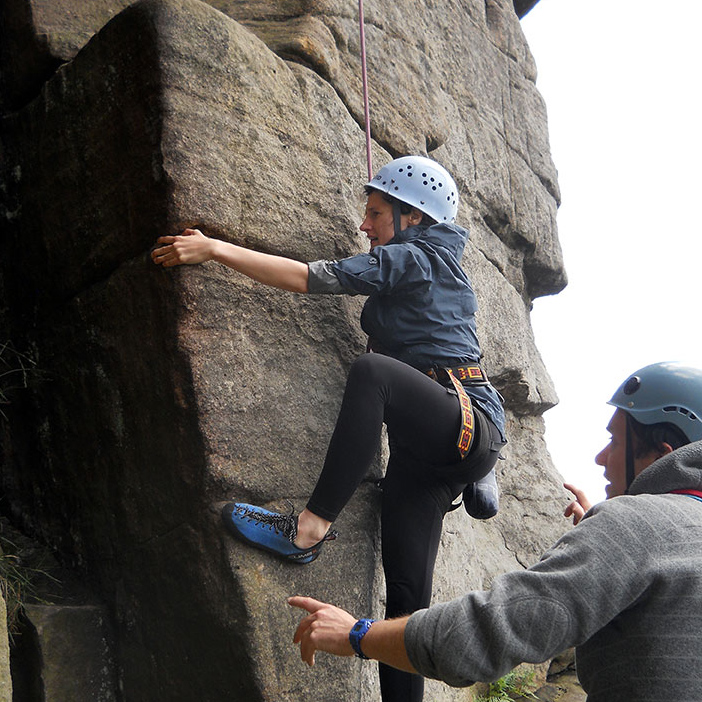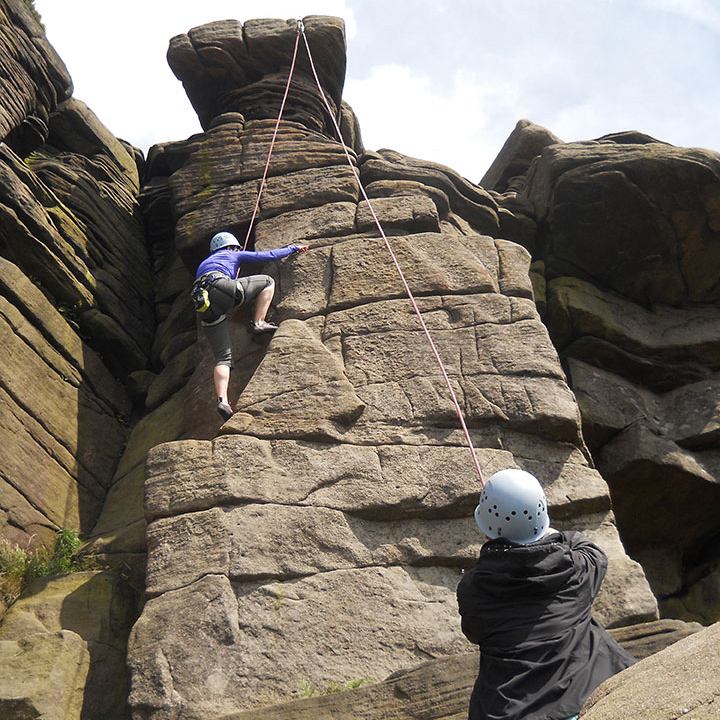 Stanage Plantation bouldering
After a quick break for lunch, we head down to Stanage Plantation, home of Brad Pit... No, not the Brad Pitt, but a famous boulder problem that comes in at V10 . Fortunately there's an array of great easy problems that start from V0 or even less - easy scrambles abound.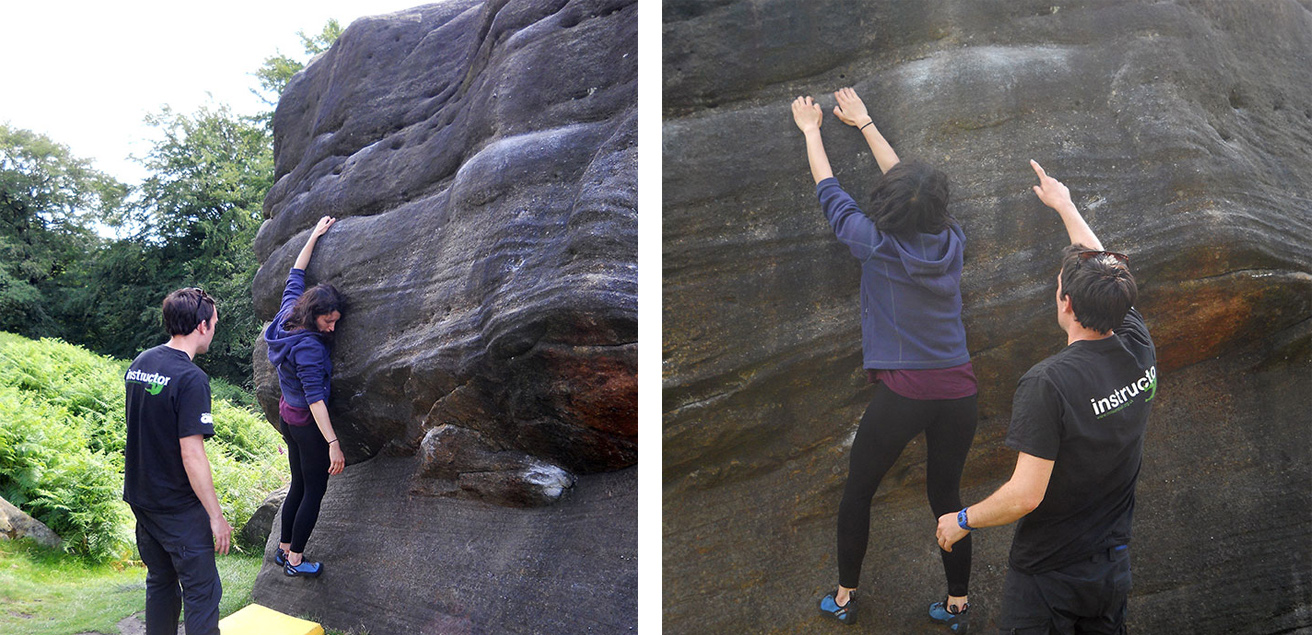 This is where we got into the nitty-gritty (pun intended) of foot placement and balance, using the amazing friction that gritstone offers climbers. At this point we really started to see some progress in technique and confidence, with the lessons learned being put into practice by everyone on day 2. You can see from the images how the climbers appear to be standing almost on nothing - especially when compared to footholds at indoor walls. Out here, everything is a foothold.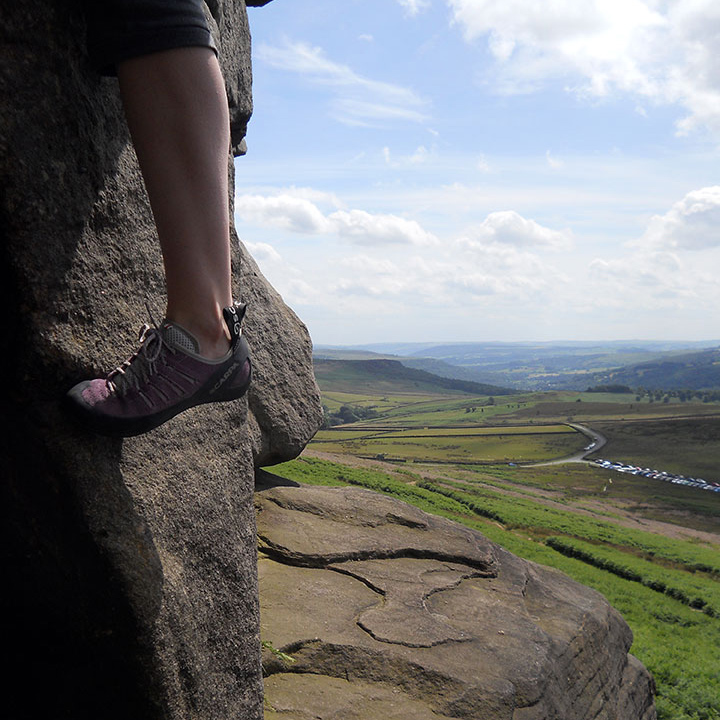 By 5.30pm, after an internsive first day, everyone is starting to feel a little bit achey and tired, so we drive back down to Hathersage. There's a great selection of pubs to choose from and everyone has a well-deserved meal, before heading off to their accomodation for the evening.
Day two, Burbage Valley
On day 2 we start with bouldering, switching things around so we can end the day with some slightly less intensive rope climbing.
Burbage South is a beautiful bouldering venue, probably the closest thing we've got to Fontainebleau in the UK ('closest' being a relative term!). There's loads of lower-grade climbs with good landings, ideal for the novice boulderer.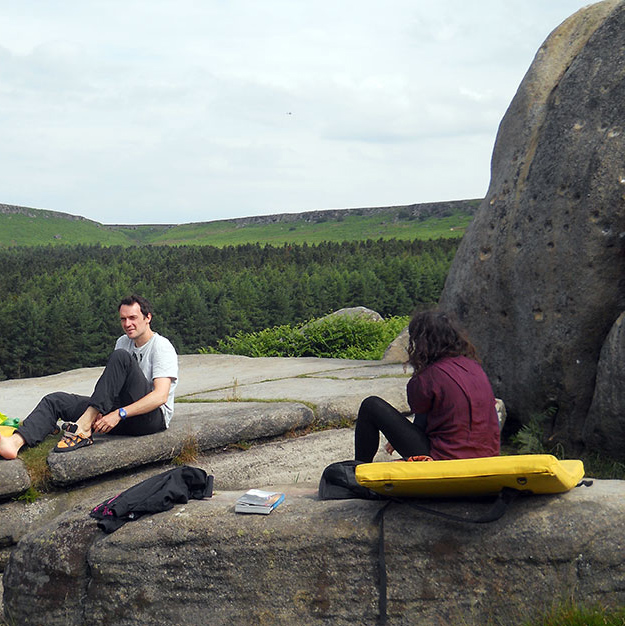 As everyone is feeling like proper outdoor climbers after a successful first day, we aim to try some harder problems and explore more of the techniques needed on gritstone. With the roundness of the rock being a key feature, we focus on mantelshelfs and especially topping out - often the point when most novices start to get scared and shaky! And of course, after reaching the top, it isn't over, so we ensure that we've checked out a suitable way down (preferably a walk-off, where possible).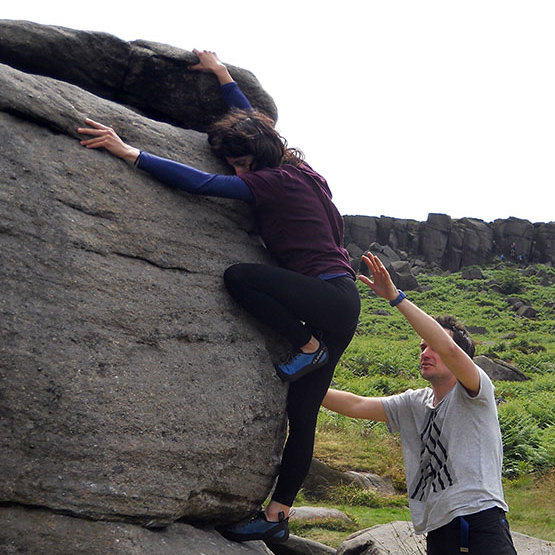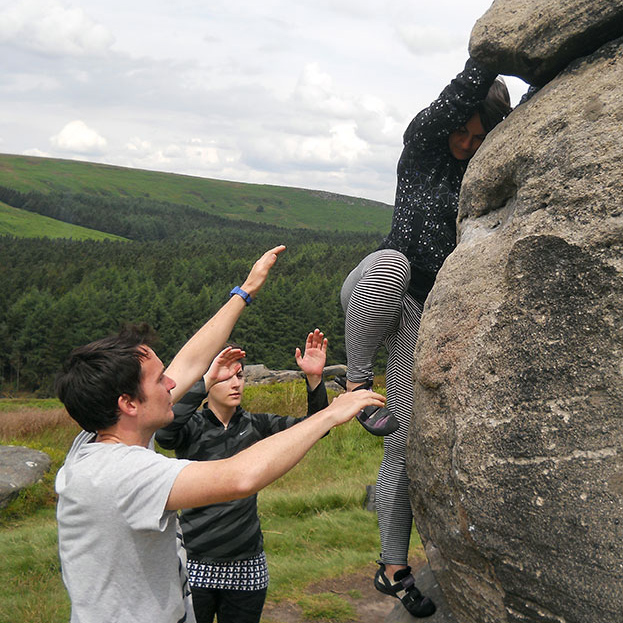 After this initial coaching, building up through some easy warm up problems, everyone makes it up a tricky V0 arete - and makes it down safely at the end!
After a great start to the day, it's time for lunch, followed by a short journey up to Burbage North . On the walk-in, we spot on of these guys (a common lizard?) basking in the sun.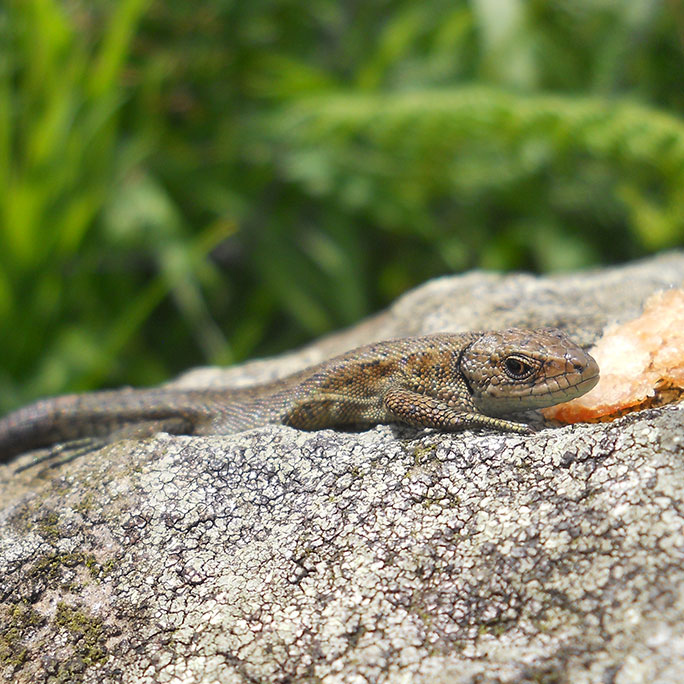 We head for towards the Ash-Tree Wall area, a popular area for groups, fortunately nice and quiet when we arrive. There's a range of classic easy lines here, all at a decent height. Andy heads up to the top and installs the anchors and top rope ready for the group. You can see in the picture that the rigging needs to extend over the edge of the crag, so that the moving top-rope isn't rubbing against the rough surface of the gritstone. Additionally, we often link several anchor points together to ensure redundancy should any one point fail - building what we term in the industry a 'Bomb-Proof Anchor'!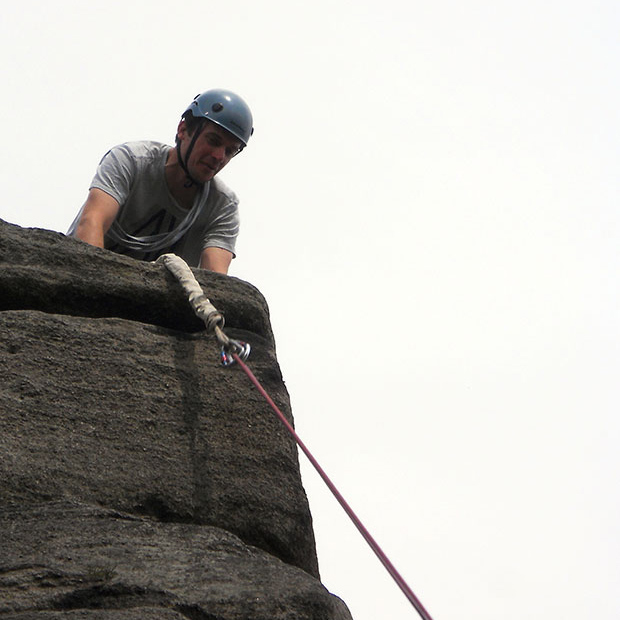 We set the rope up on Bilberry Crack, a nice VDiff that, although at the easier end of the grade spectrum, requires a variety of techniques, some of which may not seem obvious to the novice outdoor climber!
Although we were approaching the end of our 2 day course, all 3 climbers put in a shift on this climb and battled up past a couple of tricky sections with steely determination, eventually conquering this great little route.
With a short time remaining, rain stopped play, so we donned waterproofs and took shelter behind some handily located boulders. Luckily for us, the rain was light and the rock offered a great spot for an introduction to the theory of placing gear, building simple anchors, tying various knots and learning to coil ropes.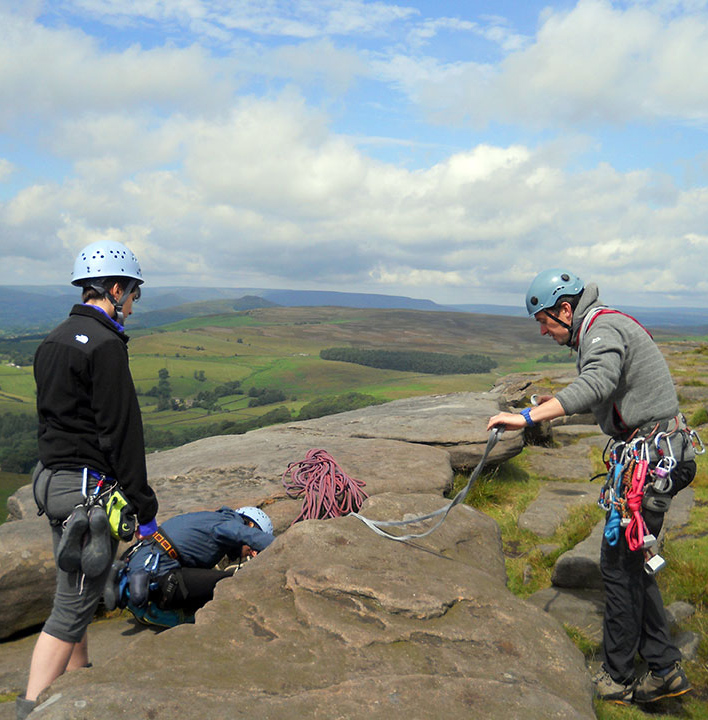 As the sun returned it was time to pack up (more rope coiling) and head back to the car. A tired but happy team of climbers, now bursting with questions about how and where could they climb outside next, was dropped back at the station, ready for the train back to London. I'm sure that everyone's journeys home were filled with dreams of future climbing trips!
Find out more
Inside to Out Courses run throughout the summer until October 2014.
Click here to view upcoming courses dates, costs and additional information.
After finishing an Inside to Out course, or as an alternative, you might want to look at our Sandstone course and Fontainbleau Bouldering course.
Thanks to Alex and Eleni for taking the wonderful photos!