Published in Blog - Routesetting on 25th June 2013
Special Delivery…
Its been a busy few weeks for the Setting Team..
Friday 14th saw the sides of the Secret Garden come down and 22 new blocs on Trackside. Its always great to watch people try these blocs. There are so many different foot options, meaning everyones beta is different. Next up on Tuesday was the Peggy Day. Throwing laps is the name of the game here, always popular with beginners and seasoned vets alike, a great area for warming up, sideways crimping and everything in between.
On Wednesday we decided to get a head start on Thursdays Monkey Room set and take the big volume off the roof. Sheridan came up with a great idea to build a mini scaffold tower underneath it so we could literally unscrew it and drop it onto a platform. It worked a treat and gave us a massive head start for the next days setting. It also gave us a massive roof to play with, meaning everything got a bit steeper and the blocs were a bit harder. Its a great challenge and achievement for for people to try and make it it across the roof. I remember spending days trying to get across it when i first started climbing at Mile End.
On Monday we recieved our first batch of new holds for the new areas being built outside. Fresh from France courtesy of Volx, the holds are amazing and we cant wait to start setting with them. Modelled on actual holds from classic boulder problems and areas in Fontainbleau, these holds were used in the finals of Blocfest . They looked sick and climbed even better- look out for the 'Le Coeur' hold, taken from the classic 7a problem in sector Elephant.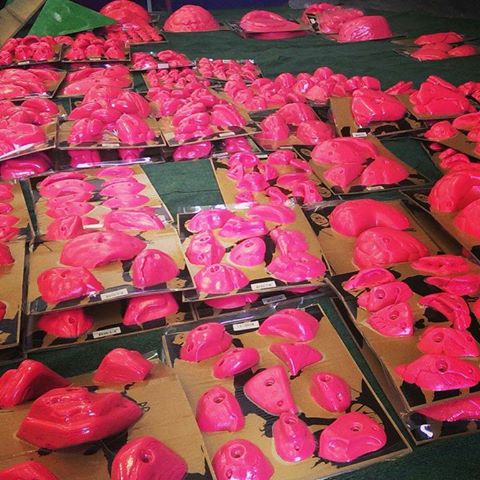 This Week The Playground gets a full reset on Thursday and the Yellow Lead wall gets a full re-set on Friday!