Top Rope Improver session
£20
Book Now
Buy a Gift Voucher
---
The session is informal and participants are expected to be competent at top-rope climbing (i.e. having completed a beginner's course or be signed of as Competent Climber ). A qualified instructor will be leading the session, giving you the opportunity to get constructive feedback and refine your new (or perhaps slightly rusty) top-roping skills. Please note that this session is not suitable for practicing lead climbing!
Here's just a few examples of what this session will help you with:
Revise your knots under supervision
Smooth out your belaying technique
Improve your confidence when climbing higher
Improve your climbing technique
Find a partner for rope climbing
We'll suggest next steps and ideas to take your climbing further
Please note that not all of the above subjects may be or will be covered on each session, as this will depend on participants level of expertise and individual needs.
Places are limited to 6 people per week, so we suggest booking in advance. Customers can join on the night, space permitting.
The Roped Improver is a instructor-led session which cost £20 - this fee covers 1,5 hour long session with instructor as well as entry fee to the wall either before or after the session.
Session takes place on various times and days of the week - please check calendar to book.
To reserve your place select a date from the list and book online, or call the wall directly on 020 8980 0289.
Shoes, harnesses and other equipment will be provided on the day.
** If you are completely new to rope climbing, please look at our Roped Course for Beginners. This session is for over 14 years old participants.
For any enquiries please email us.
Book Online
---
---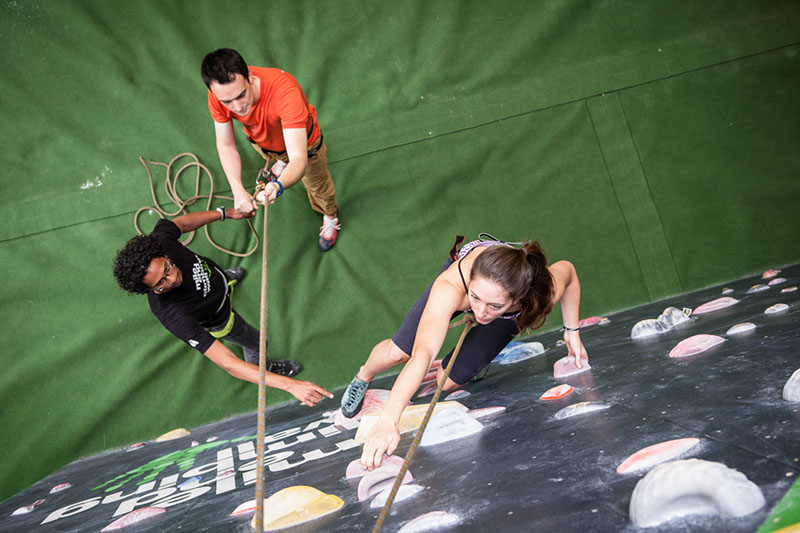 Latest Reviews

Everything went well.
17th October 2018
---

Everything was great, the instructors are very competent and friendly and the overall atmosphere and venue is amazing.
6th June 2018
---

Excellent course, it's amazing how much you can learn in just three sessions. JR was great. I would highly recommend signing up for this if you have no previous knowledge/experience, or want a refresher.
18th April 2018
---

The instructor was great and really welcoming
15th March 2018
---

The course was great, nicely paced and with a good amount of supervision. Ethan was a great instructor, obviously very knowledgeable and skilled, and was able to share his passion without showing off or being intimidating. He was able to bring the class on over the two days with humour, enthusiasm and sharing his sense of fun. It is obvious that he is passionate about climbing and instilled his course with the enjoyment that he gets from the sport. The pacing was good, with nothing being missed and a constant safe progression over the weekend. I have felt confident to return a couple of times since the course knowing that I have a sound basic understanding and that should I find I have a question to ask, there will always be someone there to help me find the answer. I had not really thought about climbing as something I could get into, but after the course I am pleased to say I will be back and embracing it safely and with a spirit of fun. Thanks guys
14th March 2018
---

Our children had a lovely time well done to the team!
12th February 2018
---

good helpful instruction and advice
6th December 2017
---

A really great and informative session lead by the excellent Terry
2nd November 2017
---